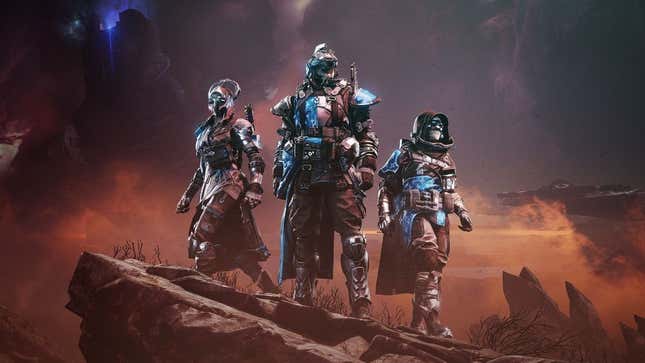 Bungie employees knew the Destiny 2 studio was struggling, but might not have expected a recent mass layoff of roughly 100 staff. That's according to a new report by Bloomberg which details a meeting earlier this month in which studio leadership blamed poor player retention following 2023's disappointing Lightfall expansion for revenue going off a cliff.
Why The Hot New Redfall Gameplay Trailer Left Us Feeling Cold
The money Bungie was bringing in was reportedly running 45 percent below projections for the year. Despite an initial spike in concurrent players on Steam, Destiny 2 has struggled in the weeks and months following the release of its cyberpunk-infused Lightfall expansion. Bloomberg reports that The Final Shape, which Bungie has been hyping up as the climactic conclusion for Destiny 2's current storyline, was getting good but not great feedback internally. As a result, the decision was made to delay it from February 2024 to June in order to try to win back players. (Extraction shooter Marathon was delayed as well, to 2025.)
Read More: Destiny 2 Fans Worry About The Future After Cuts And Delays
In the meantime, Bungie ultimately decided to lay off roughly 100 employees, or about 8 percent of its 1,200 headcount, Bloomberg reports. As first shared by Forbes writer Paul Tassi earlier today, employees are receiving three months of severance and health insurance, while other benefits run out on November 1. And while bonuses will be prorated for the year, those with shares from the 2022 Sony acquisition that haven't yet vested will lose them. Sony, for its part, also appears to be cutting costs across its studios.
"Today is a sad day at Bungie as we say goodbye to colleagues who have all made a significant impact on our studio," Bungie CEO Pete Parsons wrote on Twitter on October 30 after the news broke. "What these exceptional individuals have contributed to our games and Bungie culture has been enormous and will continue to be a part of Bungie long into the future."
The tweet has since been ratioed, with some commenters calling the remarks "tone deaf" and asking the executive whether he had taken a pay cut before deciding who to lay off. Bungie has so far declined to comment on the situation.