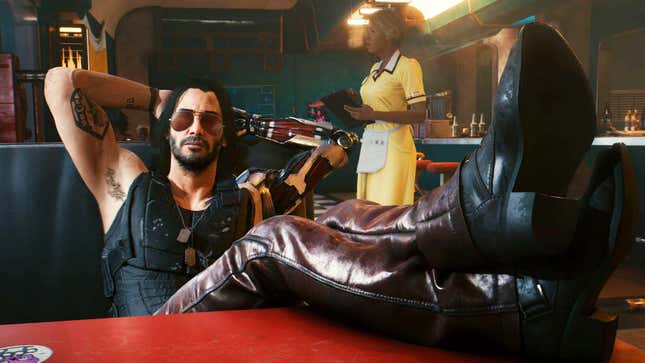 Cyberpunk 2077's first (and only) DLC expansion, Phantom Liberty, was just recently released for Xbox Series X/S, PlayStation 5, and PC. But developer CD Projekt Red is already sharing more details about Cyberpunk 2077's big-budget sequel, currently known as Project Orion. However, it sounds like it's still years and years away at this point.
Cyberpunk 2077's Phantom Liberty DLC Probably Won't Change V's Fate
CDPR's massive open-world RPG, Cyberpunk 2077, launched at the end of 2020 and was quite a mess. The game suffered from numerous problems, glitches, and other issues. Things were so bad that players demanded refunds and Sony yanked the game from the PlayStation store just a week after its launch. Over the last two years, though, thanks to a popular anime and lots of updates, the dystopian RPG became more popular than ever and less buggy overall. Some might argue the game's core problems can't be fixed, but CDPR did enough to help right the ship—and the game's recent 2.0 update and DLC helped make the game even more popular—to turn around a story that started quite poorly. And now, CDPR isn't looking back, but looking forward to Project Orion, its tentative Cyberpunk sequel.
Buy Cyberpunk 2077: Amazon | Best Buy | GameStop
CD Projekt Red
On October 5, during a presentation for investors, CDPR shared more details on Project Orion. During the event, the company's chief creative officer Adam Badowski explained the sequel is still in the "conceptual design" phase at the moment, meaning it is likely years away from release. Badowski also told investors that the sequel will be designed by a team of "veterans who were responsible for fine-tuning" Cyberpunk 2077 and its recent DLC, Phantom Liberty.
According to the CCO, Project Orion will be developed by teams located in Vancouver, Boston, and Poland. Badowski says that the target is for half of the devs to work out of Poland and the other half to be located in North America.
Project Orion was first announced in October 2022 alongside five other CDPR projects, including a new The Witcher trilogy and the just-released Phantom Liberty expansion.
.