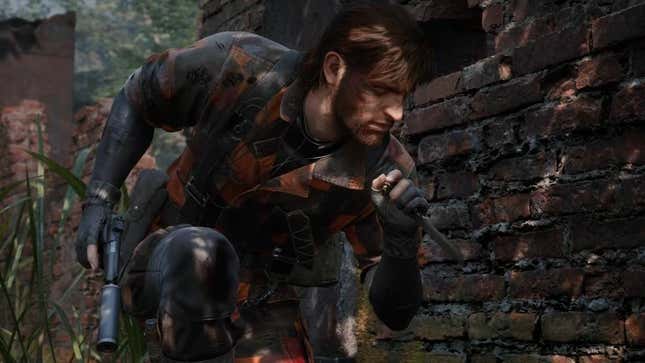 When the Metal Gear Solid 3 remake was revealed back in May, all we got were some shots of a swamp and Naked Snake coming out of the water. A new trailer that debuted today during the latest Xbox mini-showcase finally gives us a look at the game in action, if only briefly. And you know what? It looks really good.
How Alan Wake 2 Builds Upon The 'Remedy-Verse'
The remake will take the 2004 PlayStation 2 game and overhaul it in Unreal Engine 5. While that could run the risk of drastically changing the style and feel of the original Fox Engine version of the stealth action game, Snake's environmental sneaking and silent takedowns look as characteristically Metal Gear as ever, and the graphics look way better.
Here's the new trailer:
The "first in-engine look" begins with Naked Snake trudging through a muddy river next to a crocodile. Later we see him crouching near some tall grass as the mud flicks off his clothes and boots. From there we see him aiming a pistol, climbing across a cliff, grabbing a guy from behind, and lots and lots of glimpses of wildlife. As some fans noted, the new footage appears to confirm that Snake can finally move while crouching, unlike in the original game.
The earlier reveal trailer had the potential to be mostly smoke and mirrors, but now this whole project is looking a lot more promising and real. We still don't have a firm release date yet, or a clear idea of exactly who at Konami is working on it. Singaore-based art and outsource development studio Virtuos is helping with production. Konami also confirmed the remake will use the original voice performances, but that original director Hideo Kojima and original artist Yoji Shinkawa are not involved in any way.
The company said it wanted to start with remaking Metal Gear Solid 3 since it's the origin story for Big Boss. If all goes will, it could mean we'll eventually get Unreal Engine remakes of Metal Gear Solid 1 and 2 as well. All three games can currently be played on the new Metal Gear Solid: Master Collection, though the remaster anthology leaves plenty to be desired.