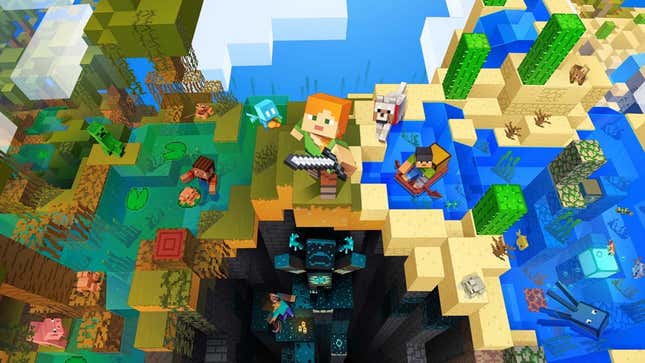 Announced during Minecraft Live 2023, Mojang's massively popular survival crafting game has now sold over 300 million copies worldwide since its initial release in 2009.
Long-Lost Halo Demo Comes To Life
Minecraft Live 2023, the official and annual Minecraft conference run by Microsoft and Mojang, was held on October 15 and featured announcements of new features, updates, crossover DLC, and more. And during the event, Mojang took a moment to remind folks that Minecraft turns 15 years old next year. After nearly 15 years, the blocky survival game has been ported to basically every platform on Earth and has seen numerous spin-offs, too. So it's not surprising that Minecraft has sold incredibly well. But Mojang confirmed that it just recently broke a huge milestone.
According to Mojang, Minecraft has recently hit the hard-to-fathom number of 300 million copies sold. That's a lot of bricks, blocks, and pickaxes! Based on what sales data is out there, Minecraft is far and away the best-selling game of all time.
To put that massive number into perspective, Grand Theft Auto V has only sold 185 million units since its release in 2012. Mario Kart 8, one of the best-selling Nintendo games ever, has sold 63 million across Switch and Wii. So yeah, Minecraft's 300 million sold is an impressive amount, and unlikely to be toppled anytime soon. Well, until Minecraft hits 350 million one day.
Buy Minecraft: Amazon | Best Buy | GameStop
Mojang / Microsoft
Beyond the news that Minecraft continues to be one of the biggest games in history, Minecraft Live 2023 included some other news about the popular block-breaking phenomenon. Here's a quick round-up!
The armadillo was named the winner of this year's Mob Vote, meaning the cute little critter will officially be added to Minecraft permanently. The winning creature beat out penguins and crabs.
Minecraft is getting a new Star Wars-themed DLC set during the Clone Wars. Mojang and Lucasfilm announced that players will get to customize their own lightsaber and droid in the new adventure, which is set to launch on November 7.
Planet Earth III DLC is also coming to Minecraft and will include new, blocky versions of some of the biomes and creatures seen in the upcoming documentary series.
The next major Minecraft update will hit in 2024 and is bringing a new trial chamber item that will create randomly generated dungeons for players to explore.