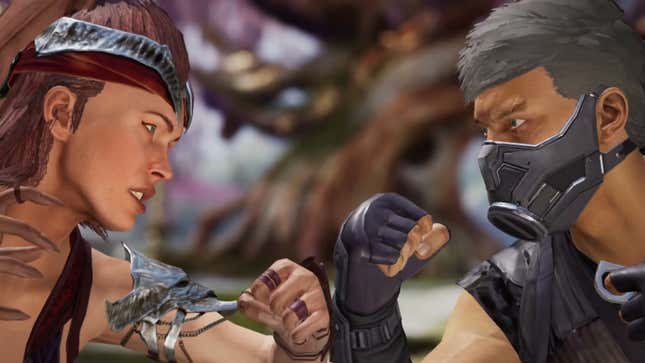 The Switch version of Mortal Kombat 1 released in an absolute state. It's one of the widest gaps in quality we've seen between Nintendo's device and its console contemporaries. But for better or worse, NetherRealm Studios and the port teams at Shiver Entertainment and Saber Interactive are still supporting it, and making efforts to edge it nearer to justifying its $70 price tag.
The Week In Games: What's Coming Out Beyond Mortal Kombat 1
The Switch version's latest patch went live on October 11, and promises some general "visual improvements" to the notably fugly port. But on top of general polish, the patch also brings Invasions, a feature previously missing on Switch, that has been live in Mortal Kombat 1's other versions since launch on September 19. Invasions' seasonal events marry the game's fighting mechanics with a board game mode and RPG mechanics. Each season lasts about six weeks, meaning while the other platforms' versions of Mortal Kombat 1 are reaching the end of the first season on October 30, the Switch port is getting a late start.
Buy Mortal Kombat 1: Amazon | Best Buy | GameStop
Missing an entire mode wasn't great, but the Switch port's biggest issues were technical,both in its graphics and performance. YouTubers, like Madlittlepixel, have taken the updated Switch version for a test ride, and while it's still a poorer experience on the handheld, there's less chugging, smoother fights, shorter load times, and fewer crashes.
NetherRealm / Madlittlepixel
The full list of updates reads as follows:
Season 1 of Invasions
Gameplay balance changes
Leaderboards fixes
Visual improvements and general bug fixes
Performance improvements
Stability fixes
Localization fixes
Ultimately, a Switch version is never going to reach the heights of the PC, PlayStation 5, or Xbox Series X/S, because this is vastly older and lower-spec tech, but at least there are some notable improvements here. It still feels egregious to charge the same amount of money for a demonstrably worse version of the same game, however. For more on Mortal Kombat 1's better versions, check out Kotaku's review.