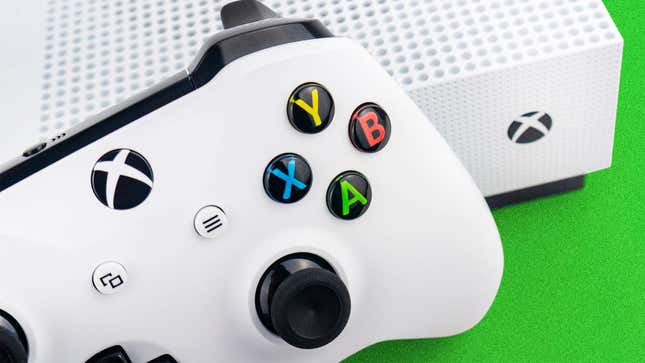 Microsoft's getting ready for the holiday shopping season with a new Xbox Series S bundle that includes three months of Game Pass Ultimate at no additional cost. When you consider how many great games are available on Game Pass and how solid the tinier Xbox Series S is as a console, this new starter bundle might be the best deal in video games in 2023.
Thank You, PS Plus, For Making My Backlog Even Bigger
On October 12, Microsoft announced the Xbox Series S Starter Bundle via its official news blog. The new bundle--which goes on sale October 31— includes an Xbox Series S console and three months of Xbox Game Pass Ultimate membership for $299. This means that it's the same price as a base Xbox Series S. Microsoft says the three months of Game Pass amount to a $50 value. Once the three months are up, players will have to start paying if they want to keep using the service.
Pre-order the Xbox Series S Starter Bundle: Microsoft
While the Xbox Series S isn't as powerful as PlayStation 5 or Xbox Series X, the little console isn't a slouch either. And considering many people still game on 1080p TVs, the Series S's lack of native 4K gaming isn't necessarily that big of a deal. For folks looking to hop into the "next generation of gaming," this new bundle is a good option. It's also tempting for people who want a second console to power-up a spare TV in a bedroom or living room.
Keep in mind that the Series S doesn't include a disc drive, so you'd only be able to play digital versions of games and movies. Oh, and this isn't the recently announced all-black Series S with more storage, either.
Xbox
Because the bundle includes Game Pass Ultimate, you don't just get access to the base Game Pass library and all of Microsoft's first-party games, but also all the EA Play games included with the subscription, as well as Game Pass' library of Windows games and the ability to stream some Xbox titles to your phone or other devices.
If you're looking for some games to play on the Xbox Series S (or X) we keep a continually updated tally of some of our favorites. We also keep tabs on the best Game Pass games and even the best spooky games available on Microsoft's subscription service. And yes, Game Pass gets you access to Starfield, a game that runs surprisingly well on the small Xbox Series S.
Pre-order the Xbox Series S Starter Bundle: Microsoft
.