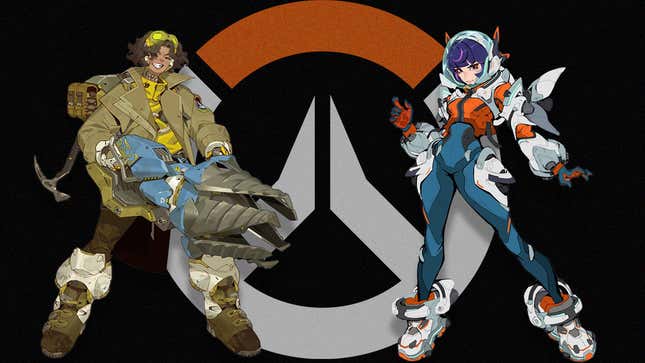 Blizzard announced three new Overwatch 2 heroes at Blizzcon 2023's opening ceremony, and while Mauga, the next tank hero, is playable in the game this weekend as part of a test period to everyone, the company also showed off two other heroes planned to launch in 2024.
Where Does Games Media Go From Here? | Ahead of the Game
Director Aaron Keller showed concept art of the two new characters on the event's stage, and while we don't know much about them yet, we do know their classes There's a damage hero named Venture, who wields a drill-like weapon and what looks like a climbing axe on their belt, and a support here codenamed Space Ranger. It's hard to gauge how they'll fight based on the singular piece of concept art Blizzard shared, but they have a much more futuristic, sci-fi look than Venture. For now, we can only speculate what their abilities will be, but at least we know each class will be getting a new hero.
Blizzard Entertainment
Alongside Venture and Space Ranger, Blizzard also announced a few other features coming to Overwatch 2 in 2024. Clash is a new PvP game mode that includes five objectives and players moving back and forth between them until one team captures all five. The mode will also take place on a new map based on Hanamura, a classic map cycled out of Overwatch 2 when two-point capture modes were cut from Quickplay and Competitive.
Speaking of Competitive, Blizzard also said it would be reworking rewards in the ranked mode, but didn't divulge details. Notably, there was nothing said about story missions, so it's unclear if or when we'll see the next set of narrative missions added to Overwatch 2. I certainly hope it's somewhere in that 2024 plan, because if we have to wait two years between story missions when PvE was the biggest selling point of the sequel, that's a real sad turn of events.