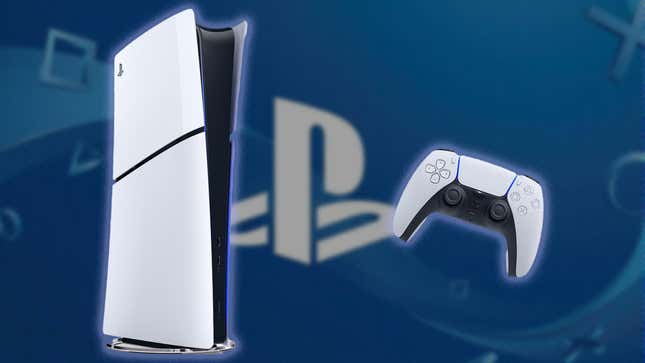 Sony revealed the long-rumored "slim" models for the PlayStation 5, and while they are a lot lighter than the existing consoles, the specs haven't really changed. What has changed is the price, however. The company announced the new all-digital PS5 will be priced at $450 instead of $400.
Thank You, PS Plus, For Making My Backlog Even Bigger
The new "slim" PS5 with a detachable disc drive will remain $500, the same as the launch model. But the all-digital version will be getting a price hike, despite being 30 percent smaller, and weighing 24 percent less, than its existing counterpart. Once inventory for the larger launch models is all sold out, Sony says these new versions will be the only ones available to buy.
The detachable disc drive will be $80 to buy separately, meaning if you do buy the all-digital model and hope to upgrade later it will actually cost you more than just getting the $500 disc-ready version from the jump. It's a surprising pricing strategy given that Sony makes better margins on digital game downloads, the only purchases owners of the all-digital model can make. The new PS5s won't come with a vertical stand in the box either. That will cost $30 extra.
Usually game consoles get cheaper the longer they are on the market, but reduced supply during the pandemic and a spike in inflation rates last year led Sony to actually raise the prices on its consoles in most of the world in 2022. Now it appears those price hikes are getting sneakily introduced to U.S. customers as well. Sony and competitor Microsoft have both raised the prices of their Netflix-like subscription libraries as well.
Sony said earlier this year that it plans to sell a record-breaking 25 million PS5s in its 2023 to 2024 fiscal year. It's tried to achieve that in part through discounted bundles like the God of War Ragnarök one that was marked down by $50 earlier this year. A new Spider-Man 2 PS5 bundle includes the upcoming blockbuster for $10 off the sticker price. The sales will likely help the company sell through its existing stock of launch units, paving the way for the new slim models to become the default moving forward.
Update 10/10/2023 2:54 p.m. ET: Added information about the PS5 slim stand.