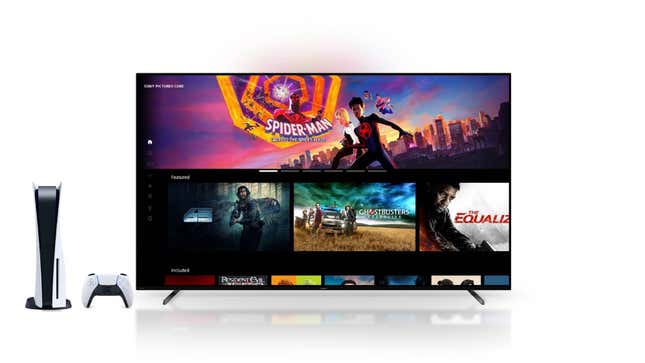 Today, Sony announced a new app coming to PlayStation 4 and PlayStation 5 consoles that'll offer PlayStation Plus Premium and Deluxe members access to a bunch of Sony Pictures Entertainment films.
Thank You, PS Plus, For Making My Backlog Even Bigger
Sony Pictures Core, a rebrand of Sony's streaming service Bravia Core, will let PlayStation users purchase or rent up to 2,000 Sony films "straight from your console." The offerings include big-name titles like Spider-Man: Across the Spider-Verse, Uncharted, Bullet Train, and Ghostbusters: Afterlife. You can download the Sony Pictures Core app in the Media section of the PS Store on your console. And depending on your Playstation Plus subscription tier, a select assortment of those may be available to you for free.
According to the PlayStation blog post, PS Plus Premium and Deluxe subscribers will receive the added bonus of an ad-free, curated list of 100 films like Kingsglaive: Final Fantasy XV and Resident Evil Damnation, which will be updated "periodically" to stream as part of your membership. Sony also announced that Sony Pictures Core will have an "early access" window where folks can purchase films like Gran Turismo, the app's first exclusive movie, before they become available on any other on-demand home video service.
Read More: The Gran Turismo Movie Is Part Cringey Playstation Commercial, Part Endearing Underdog Story
Buy a PlayStation 5: Amazon | Best Buy | GameStop
Toward the end of the blog post, Sony teased "additional benefits" to come for PlayStation Plus members in the future, saying:
We hope you'll enjoy Sony Pictures Core and all the films that will be accessible through the app. It's part of our shared goal with Sony Pictures Entertainment to bring together this curated collection of wonderful films to elevate the PlayStation experience. This is just the beginning, and we plan to evolve the offerings and benefits of Sony Pictures Core over time—including a selection of hit anime content from Crunchyroll. We're looking forward to more exciting things to come, so stay tuned!
The app is available today. Bravia Core will officially rebrand as Sony Pictures Core next year.