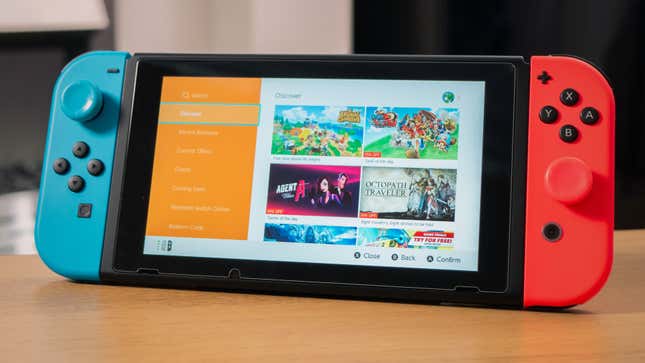 While it does have a handful of consumption apps like YouTube, Hulu, and Crunchyroll in the eShop, the Nintendo Switch is typically used for gaming and little else. That became a bit more true today, as the official Twitch app is getting tossed from Nintendo's hybrid console.
Lego Star Wars: The Skywalker Saga's Air Combos Make Me Feel Skilled AF
Twitch arrived on the Switch in 2021. But though the official page for the Switch's Twitch app promises "a flexible Twitch viewing experience" where you may "watch, follow, or interact with any broadcaster or channel live on Twitch," you really could only do the watching part. Those who've messed with Twitch on the Switch are probably familiar with why it kinda sucked: You couldn't really see the chat; you couldn't just subscribe to streamers from the app; and you also couldn't stream your own gameplay like you can with the Twitch apps on other consoles. It was the lightest version of the Twitch experience you can imagine, so it's no surprise that it's getting pulled. Twitch will disappear from the eShop on November 6, with it being fully removed from all machines by January 31, 2024.
Reaction on the internet has been pretty much what you'd expect. A top comment on Reddit responding to the Twitch app's removal reads: "This is how I find out the Switch even had a Twitch app."
There are a few people, though, who found some occasional value in the app.. "FWIW, it's actually kinda clutch if you just want to throw a stream on your non-smart TV without swapping your HDMI cable to a laptop," one comment on Reddit reads. "Kind of a niche use case, but has come in handy for me a few times in the past few years."
"I actually use [the Twitch] app a lot," reads another comment, "since I don't have a smart TV and love having something to relax to in the evening. This genuinely sucks for me."
Read More: Switch 2 Could Look Like One Of Nintendo's Classic Handhelds
Given that even the iOS and Android versions of the Twitch app are more functional than the Switch app, its removal is no surprise. Still, I have to admire those who use their Nintendo console as somewhat of an entertainment Swiss army knife. Here's hoping future Nintendo portables have better app support.