This week brought us a wonderful treasure trove of leaks from deep inside the highest echelons of Microsoft's Xbox division, accidentally shared online as a result of the company's legal battle with the Federal Trade Commission over its now-greenlit Activision acquisition. These confidential emails, slides, and images of potential new products from the Xbox manufacturer reveal the inner workings of Microsoft's gaming division, as well as whispers of some possible new games from Bethesda.
Thank You, PS Plus, For Making My Backlog Even Bigger
Read More: Looks Like Microsoft Was Responsible For Leaking Its Own Documents
The leaks happened courtesy of Microsoft itself, as it provided these sensitive documents to the court via a publicly accessible link. Yesterday Microsoft Gaming CEO Phil Spencer reacted to the leaks, saying that it "was hard to see our team's work shared in this way."
Microsoft considered buying Nintendo
In the leaked emails, Phil Spencer and Microsoft personnel discussed a possible acquisition of Nintendo.
Read More: Microsoft Casually Discussed Buying Nintendo Or Valve In Leaked Email
"At some point," Spencer wrote, "getting Nintendo would be a career moment." He speculated that the Japanese games giant could become more open to acquisition offers in the future due to changing pressures on its board of directors. "It's just taking a long time for Nintendo to realize that their future exists off of their own hardware," he wrote. "A long time… 🙂
The emails also reveal that Microsoft thought about purchasing Valve and Warner Bros. Games.
Bethesda might be working on an Oblivion remaster
Because I decided to flip my Xbox 360 from vertical to horizontal while it was running Oblivion, my adventuring in Tamriel was cut short via a huge circular scratch on the disc that no amount of toothpaste could remedy. Maybe I'll get another chance; while it's still up in the air, the 2006 Elder Scrolls adventure might get a fancy new remaster in which I could make up for those lost years.
Read More: Bethesda Road Map Leaks, Includes Oblivion Remaster And Dishonored 3
Bethesda's roadmap was among the many recently released Xbox documents. It includes a sequel to Ghostwire: Tokyo, a Dishonored 3, and remasters of Fallout 3 and The Elder Scrolls IV: Oblivion. Also, don't expect The Elder Scrolls VI for quite a while.
Spencer: AAA game publishers lost their mojo
Phil Spencer stated that "AAA publishers were slow to react to [the disruption]" of digital storefronts like Steam and the shops built into Xbox and PlayStation.
In a leaked email, Spencer wrote that third-party publishers were unable to replicate the "dominance" they established back in the days of video game retail. After losing their advantage of highly exclusive access to consumers in brick and mortar stores, they "have not found a way to effectively cross promote, they have not found a way to build publisher brands that drive consumer affinity (the way Disney has in video)."
He noted that instead they've adopted a strategy of making huge bets on highly expensive prestige projects, relying on those risky, all-in bets to establish and maintain publisher brands. He concluded that "the role of a AAA publisher has changed and become less important in today's gaming industry."
Microsoft expected a Red Dead Redemption 2 next-gen refresh
Microsoft seemed to have anticipated an Xbox Series X/S port of Red Dead Redemption 2 in 2022. This, of course, didn't happen.
Read More: Xbox Expected A Red Dead Redemption 2 Next-Gen Update, Wanted It On Game Pass
Three-quarters of Xbox gamers had a Series S
The Xbox Series X and Series S consoles hit the market in 2020. Since then, the lower-powered, disc-less Series S actually makes up the majority of units sold. As of April 2022, 74.8 percent of Xbox Series owners were gaming on a Series S, suggesting just a quarter of the base left gaming on the more-powerful Xbox Series X unit.
Again, that was over a year ago, and more recent data suggests the install base split is approaching 50/50. But you gotta wonder how much that massive Series S install base is causing headaches for developers trying to bring high-end games to the Xbox ecosystem.
Microsoft dramatically underestimated Baldur's Gate 3
Baldur's Gate 3 is a super good time. But Microsoft didn't seem to think the D&D RPG would amount to much. In leaked comments, Microsoft estimated a $5 million expense to get the game on Game Pass, justifying the low monetary amount by describing Baldur's Gate 3 as a "second-run Stadia PC RPG."
Read More: Xbox Leak Estimates Cost Of Bringing Blockbusters To Game Pass
Reacting to this statement, Larian's director of publishing noted that Microsoft was far from alone in underestimating the appeal of Baldur's Gate 3.
Phil Spencer wasn't impressed by PS5 reveal
In an email to Microsoft CEO Satya Nadella, Phil Spencer described the Xbox Series X/S line as a "better product than [what] Sony has, not just on hardware but equally important on the software platform and services." He continued, "we have the ingredients of a winning plan […] today was a good day for us."
Microsoft accidentally got an 'exclusive' Sega game
As the next-gen consoles launched in 2020 fans of Sega's long-running Yakuza series were surprised that its latest entry, the RPG Like a Dragon, was available on Xbox Series X/S but not PlayStation 5. The Yakuza series had long been associated with PlayStation; what was up?
Read More: The Silly Story Behind The Weirdest Xbox Exclusive
Yesterday's leak revealed that Microsoft was just as surprised, and it turns out the reason for Like a Dragon landing on Xbox first was due to two competing regional exclusivity agreements Sega made essentially short-circuited each other. The result? Xbox players ate well while PlayStation fans wept into their DualSenses.
The Xbox Series X might go all-digital in 2024
We didn't just get scans of emails from very serious people, we also got some images and details of possible forthcoming hardware, including a cylindrical-shaped Xbox Series X that won't include a disc drive.
Read More: All-Digital Xbox Leak Reignites Game Preservation Fears
Code named "Brooklin," the leaked data indicates that the possible hardware refresh will include "more internal storage, faster Wi-Fi, reduced power" and a "more immersive controller."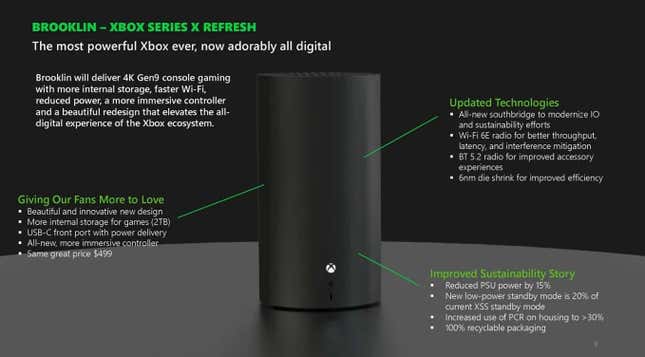 If this thing does see the light of day I'll happily refer to it as trash can Xbox, in honor of the similarly shaped 2013 Mac Pro refresh.
The Xbox could get a fancy new controller
The potential 2024 hardware refresh might also see a new Xbox gamepad hit the market. The image of a controller codenamed "Sebile" shows a two-tone color design and promises modular thumbsticks and features that many a PlayStation fan have known for a few years now: "lift to wake," "precision haptic feedback," and an accelerometer.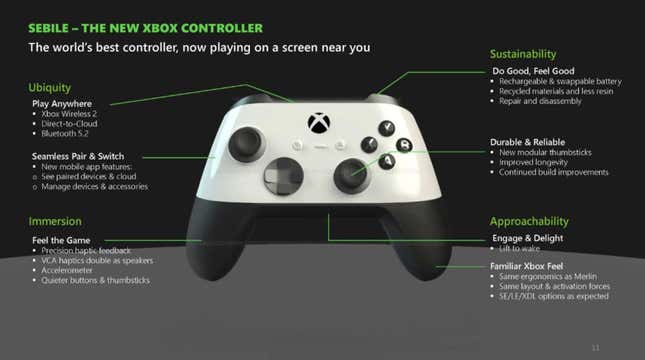 Read More: Xbox Series X/S Redesign And New Controller Coming In 2024, According To Leaked Plans
Despite how the controller may look in this image, the copy indicates that it will feature the "same ergonomics" as the current Xbox Series X/S controller (codenamed "Merlin").
Microsoft sees its next Xbox as a cloud 'hybrid' machine
Slides projecting the future of the Xbox platform indicate that Microsoft is very much looking to the cloud (where have I heard that before?) to help power its post Xbox Series X/S console, for which it's looking at a 2028 release.
Read More: Microsoft Aiming To Release Next Xbox By 2028
Microsoft describes such a machine as a "next-generation hybrid game platform capable of leveraging the combined power of the client and cloud to deliver deeper immersion and entirely new classes of game experiences." Cool?
---
So while we might get some sequels to beloved games like Dishonored and a fancy new controller for Xbox and PC, the leaked Microsoft materials also portend another nail in the coffin for physical game media . But hey, maybe Mario and Master Chief will get to go on a little adventure together at some point.
…