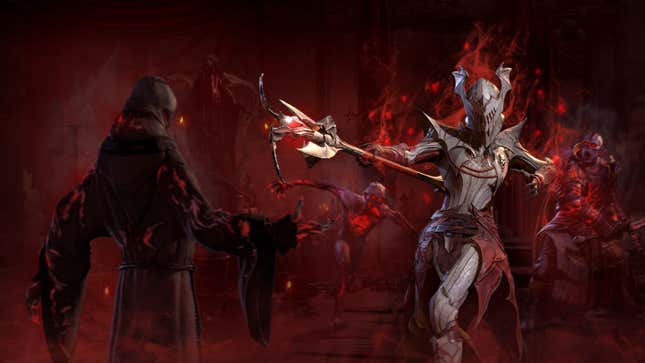 Diablo IV's vampire-infested new Season of Blood goes live on October 17. In addition to new quests and gear, season 2 also promises a big overhaul of how XP and damage are calculated. The math can get pretty complicated. Even Blizzard's own trailer got it wrong, which the studio ended up pulling after it was roundly mocked online.
Diablo IV – Bear Bender Build
"Check out some of the best quality-of-life changes coming with Season of Blood," read the description of a nearly two-minute video posted on Diablo IV's social media channel on October 13. As first spotted by PCGamesN, it was quickly taken down after fans noticed a bunch of errors in the footage. However, it has since been immortalized in a reaction video by Diablo YouTuber and streamer Raxxanterax. "I'm trying to build some hype for your new season, but you're making it real hard."
One section mixes up the "before" and "after" comparisons of a rework that will streamline Nightmare Dungeons and increase enemy density within them, and another touts overhauled mounts without really showing what's changing. But the main section of the video that drew the ire of fans was a part breaking down how the math calculating XP earned and damage dealt will change starting in Season of Blood.
A before and after slide shows a switch from "1,000 x 40% = 1,040 XP" to "(1,000 x 1.2 = 1,200) 1.2 = 1,400 XP." Unfortunately, neither is mathematically correct. What it's intended to show is that rather than XP percentage bonuses being purely additive they will be multiplied, providing additional gains. It was hardly the biggest of blunders, but combined with everything else it became easy fodder for internet dunks.
When Season of Blood goes live it will fundamentally change how stats like damage and resistance are calculated as well. The patch notes are 10,000 words long. If everything goes off without a hitch it could be the second wind Diablo IV needs right now. Then again, with so many changes going into effect simultaneously, I'm sure more than a few bugs will be discovered after season 2 begins.
Update 10/17/2023 2:36 p.m. ET: Blizzard announced that the official start of the season has been delayed by a few hours due to some complicaitons with the build. Today is also Diablo IV's debute on Steam.
…