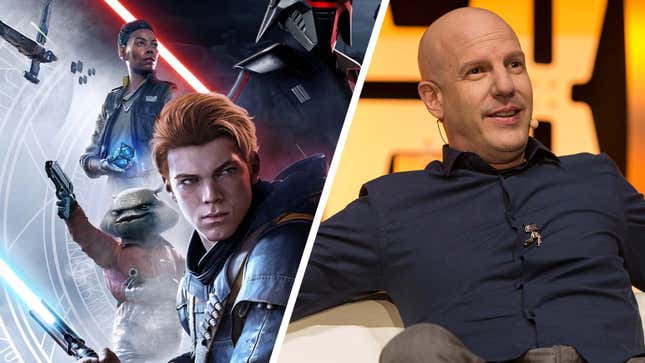 Stig Asmussen, the director behind Respawn Entertainment's Star Wars Jedi: Fallen Order and its recent sequel has left publisher Electronic Arts for unspecified reasons.
10 Creatures We Wanna Ride In Star Wars Jedi: Survivor
2019's Star Wars Jedi: Fallen Order was a huge hit, selling millions of copies and garnering rave reviews from critics and fans. Earlier this year, the game's sequel, Jedi: Survivor, debuted to equally positive reviews and sales. Both games were seen by many as a huge improvement over EA's previous Star Wars output, which included multiplayer shooters and canceled projects. And now, the man who helped lead development on the Jedi games is no longer with Respawn or the studio's parent company EA.
According to a new September 13 report from Bloomberg, Stig Asmussen has left EA, with the Madden and Battlefield publisher confirming the news with the outlet.
When asked about the departure, EA provided Kotaku with this statement:
After careful thought and consideration, Stig Asmussen has decided to leave Respawn to pursue other adventures, and we wish him the best of luck. Veteran Respawn leaders will be stepping up to guide the team as they continue their work on Star Wars Jedi: Survivor.
The specific reason for Asmussen's departure is not yet known. His exit from Respawn, at least from the outside, does seem surprising, as the Jedi games have been considered huge successes for EA and its stewardship of Star Wars. His sudden exit seems even more surprising when you consider that, according to Asmussen, the Jedi series of games was always meant to be a trilogy, implying a third game is coming in the future.

In March, a month before the launch of Jedi: Survivor, Asmussen told IGN that he "always wanted to see [the Jedi saga] as a trilogy." He explained further that the team had "ideas of what we could do beyond [Jedi: Survivor]."

While it's very likely EA and Respawn will develop a third game in the popular franchise, completing the presumably planned trilogy, it will seemingly be without the director who helped make the first two chapters memorable.

 .

…