Disney Dreamlight Valley, the cozy life sim set in a magical world filled with iconic Disney characters, has been in Early Access since August 2022. It's set to finally leave Early Access this December, but a recent blog post has divided fans: Disney Dreamlight Valley will not be free-to-play upon launch, despite developer Gameloft promising just that for more than a year.
The Top 10 Most-Played Games On Steam Deck: August 2023 Edition
During the Early Access period, those who wanted to immerse themselves in one of Dreamlight Valley's six Realms had to purchase one of three Founder's packs, which gave them access to the game along with a collection of Moonstones (in-game currency) and in-game cosmetics. The Founder's pack tiers were Standard ($30), Deluxe ($50), and Ultimate ($70), with the more expensive tiers offering more Moonstones and more cosmetics. Xbox Game Pass subscribers could enjoy Disney Dreamlight Valley for free, however.
Check Out Disney Dreamlight Valley (Standard) GameStop
Check Out Disney Dreamlight Valley (Deluxe) Amazon
Check Out Disney Dreamlight Valley (Deluxe / Ultimate): Xbox
Read more: 35 Things I Wish I Knew Before Playing Disney Dreamlight Valley
Throughout the entirety of the Early Access period, Gameloft promised that, upon the December 5 launch, Disney Dreamlight Valley would shift to a free-to-play model with purchasable expansion options. An FAQ response that is still on the Gameloft site reads: "After Early Access, we have plans to add paid expansions that will add significant content to the game. These optional expansions will add new content (including characters) to the base game. However, we are currently focusing on delivering a great, complete experience first."
But now, Gameloft says that won't be the case. Instead, there are three launch editions: the $40 base game, a $50 physical Cozy Edition, and a $70 Gold Edition that includes the upcoming A Rift in Time expansion.
Disney Dreamlight Valley launch editions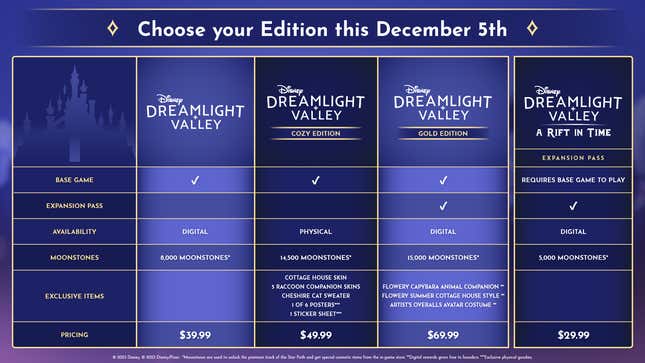 "As we look ahead to the official launch, with the learnings we've gained from Early Access, we've made the decision to remain a paid game for the foreseeable future. This means we will not make the transition to be a free-to-play game when we leave Early Access on December 5," the Early Access update on the official Disney Dreamlight Valley site reads. "This choice ensures that Disney Dreamlight Valley will be able to continue delivering on a premium game experience for all players. It's important to us that we maintain our promise to keep delivering free content updates that add new characters, realms, clothing, furniture, and more surprises to your Valley. Purchases requiring moonstones will remain optional, fair, and match the level of quality players have come to expect. Players will still be able to collect free Moonstones via Dream Snaps and Chests, or optionally choose to purchase them."
Read More: 11 Hours In, Dreamlight Valley Is Way More Than A Disney Animal Crossing Knock-Off
Reactions from players have been mixed, with some praising the decision to avoid the messiness that is often standard with F2P microtransactions, and others lambasting the decision to renege on a year-long promise. "I didn't buy it since I was waiting for free to play, guess I'm not buying it ever," one X user wrote in a reply to my post asking for responses. Others, replying to the official post announcing the update, were confused as to how their Founder's Edition purchases would carry over to the official game launch.
Though the update makes clear that Founder's Edition owners will retain access to the game, get all unique cosmetic items from the Gold Edition free of charge, and receive 2,500 Moonstones, it seems that they will have to shell out the $30 for the expansion pack, even if they spent $70 on the Ultimate Edition Founder's option. "Seems super scummy that founders/legacy players will have had to pay more, overall," wrote a commenter on X.
Kotaku reached out to Gameloft for clarification and was directed back to the aforementioned blog post, which also stated that a November 1 live stream will provide more details on the expansion pass and future updates. Disney Dreamlight Valley launches on December 5 for PlayStation, Xbox, PC, and Nintendo Switch. You can buy Founder's Editions up through December 4.
…