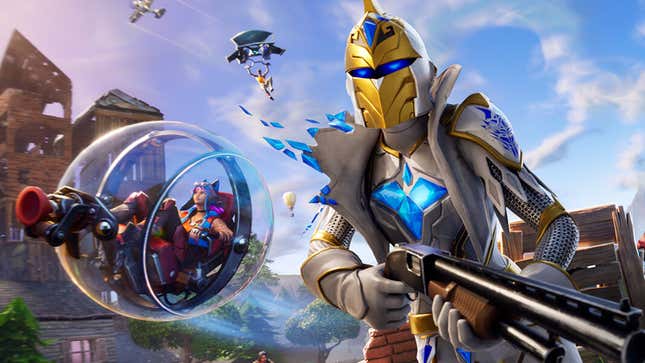 Just over a month after Epic Games cut nearly 900 employees, players have come roaring back to Fortnite to play its new nostalgia trip through the battle royale's original map. Player count trackers like Fortnite.gg estimate the hit free-to-play game peaked at over 5 million concurrent players in the last 24 hours across all modes, almost double what it averaged for most of the year.
How Alan Wake 2 Builds Upon The 'Remedy-Verse'
The game's chapter 4 season 5 update went live on November 2 and has been officially dubbed "Fortnite OG," bringing fans back to the island battlefield as it originally looked and played in 2018. Classic weapons and items have returned like the beloved shopping cart, as well as fan-favorite locations like the infamous Tilted Towers that were destroyed back in 2019. Players can once again hide out in Salty Springs or get merc'd from 300 yards off in Paradise Palms.
Of course, while the game once again looks like it did all of those world-destroying updates ago, the player-base has certainly evolved. Anyone who's barely played in years but has had their curiosity piqued will be up against opponents who are more skilled and experienced than ever. "OG fortnite map back but whats the point if half the lobby plays like this," tweeted user ayeejuju alongside footage of someone building in 4D chess mode.
Other things have stayed the same. Tyler "Ninja" Bevins, who rode Fortnite's popularity to become one of the biggest video game streamers ever, was back on Twitch recently playing the Fortnite OG update for over 100k viewers. The game is currently surpassing the typically dominant Just Chatting category on the Amazon-owned platform's leaderboard with over 600k viewers total. To put things in perspective, Fortnite hit over 12 million concurrent players during the 2020 in-game Travis Scott concert event shortly after the pandemic began.
Still, it's the buzziest Fortnite has been in a long time, and certainly since Epic Games announced mass layoffs and disinvestments in late September. "We've been spending way more money than we earn," CEO Tim Sweeney wrote at the time. "While Fortnite is starting to grow again, the growth is driven primarily by creator content with significant revenue sharing, and this is a lower margin business than we had when Fortnite Battle Royale took off and began funding our expansion."
Fortnite OG has put the mode that nets Epic the highest commission back in the spotlight. It remains to be seen if the company can keep the momentum up with other upcoming updates as the season goes on. Epic raised the price of V-Bucks, Fortnite's in-game currency, just last week. The game might be returning to its 2018 roots, but the costs and competition are higher than ever.
…