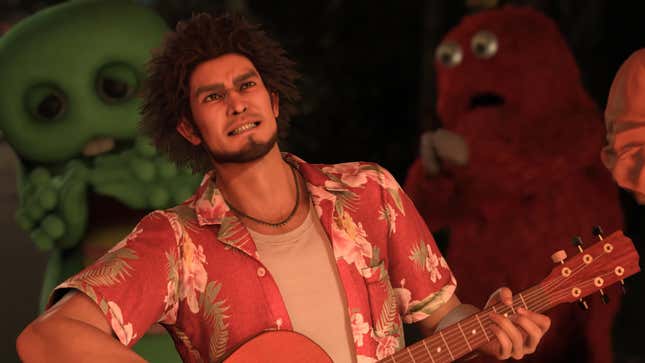 During today's Xbox Partner Preview, a showcase for Microsoft's upcoming third-party games, we got a new look at Sega's next Yakuza adventure. No, not Gaiden, the other one: Like a Dragon: Infinite Wealth. Instead of showing off dual protagonists Ichiban Kasuga and Kiryu Kazuma kicking all kinds of street punk ass across Hawaii, today's trailer pumped the brakes and gave us a peek at its madcap new Animal Crossing-inspired game mode.
The Yakuza Devs Should Cast These Celebs In Their Next Hostess Club Minigame
Infinite Wealth's new Happy Resort Dondoko Island mode will have you managing your own island resort. Like Nintendo's cozy 2020 life simulator Animal Crossing: New Horizons, you can go fishing on the beach, customize the island's buildings and furniture, and have Ichiban craft special DIY projects. The similarities between Dondoko Island and AC:NH don't end there. DonDonki Island will also let you forge friendships with the island getaway's many outlandishly dressed tourists while you manage the island's influx of funds and infrastructure just like Animal Crossing's Tom Nook.
Here's the trailer:
Sega
Dondoko Island may provide Ichiban and company some much-needed reprieve from the melodrama of his crime-riddled life, but that doesn't mean you won't have to sock a couple of uninvited guests along the way—this is a Yakuza game after all. Along with making sure everyone is having a good time on the island, you'll also have to defend it from intruders.
This isn't the first time the Yakuza series has turned a Nintendo game like AC:NH into its own game mode. In fact, Yakuza: Like a Dragon had Mario Kart-esque and Pokémon-inspired stints in the form of Dragon Kart Racing and Sujimon, respectively. Aside from providing players with a fun alternative to punching fools, these minigames were also a great way to earn a bunch of cash to purchase health items and upgrades for the main campaign's challenging boss fights.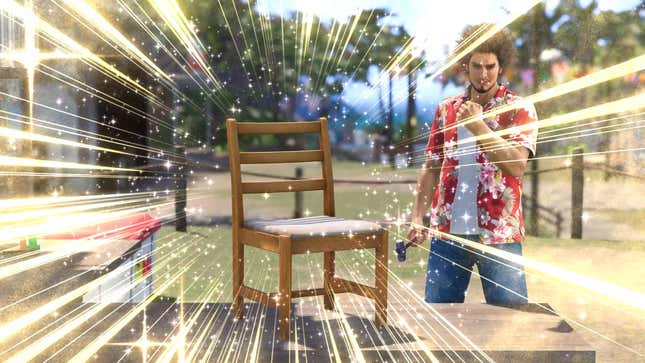 But not everything is about the money. Sometimes you just need to sit back, grab a guitar, and sing karaoke in front of a roaring bonfire. Catch a vibe, if you will. I can already see myself ignoring Infinite Wealth's main quest to sink countless hours into perfecting my island fortress. Speaking as a longtime Yakuza enjoyer, January can't come soon enough.

Like a Dragon: Infinite Wealth launches on January 26 for PlayStation 5, PlayStation 4, Xbox Series X/S, Xbox One, and Windows.

   

…