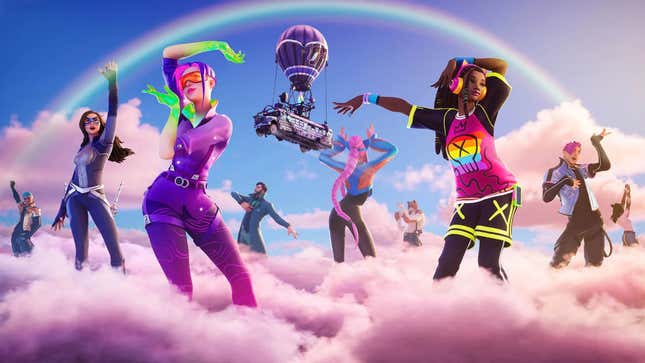 Everything's getting more expensive, even inside Fortnite. Epic Games' free-to-play battle royale is raising the price of V-Bucks today by roughly 12.5 percent. Being the last one standing just got a little more expensive, at least if you want to look stylish and rank up the season battle pass while doing it.
Dead By Daylight Devs' New Game Is Fortnite Meets Doom
Players spend billions every year on the in-game currency to buy virtual costumes, dances, and other cosmetics for their characters. Announced last month, the October 27 price increase means players will be paying a few dollars more for each new piece of virtual gear. As just one example, the Fortnite shop's new Alan Wake 2-themed skins cost 2,600 V-Bucks for the whole set. Previously, that would have cost about $20. Now it will be $23. Epic blames "economic factors such as inflation and currency fluctuations." Bidenomics strikes again.
Here's the full breakdown:
1,000 V-bucks: $9 (originally $8)
2,800 V-bucks: $23 (originally $20)
5,000 V-bucks: $37 (originally $32)
13,500 V-bucks: $90 (originally $80)
The price hike comes as almost everything in gaming is getting more expensive, from battle passes and subscription services to new games and consoles. At the same time, companies across the video game industry are slowing hiring or engaging in large layoffs, including Epic Games. The Fortnite maker announced it would cut more than 800 staff last month after CEO Tim Sweeney appeared to realize only three months ago that the company was "spending way more money than we earn."
The resulting scramble led to layoffs at recently acquired studios like Mediatonic and a rushed sale of music platform Bandcamp to Songtradr. That messy transition ended with half Bandcamp's employees getting canned and Epic refusing to recognize their union. Those laid off will still qualify for six months of severance from Epic, but the chaos has drawn criticism from those who see little accountability at the top for the apparent strategic blunders.
Now Epic Games is teasing a return to Fornite's very first battle royale mode map from back in 2017's chapter 1. The update seems designed to bring back players who may have bounced off the game in the years since it first became a mega hit, while also raising questions about what new creative ideas are still left for the battle royale to explore. Epic's chief creative officer, Donald Mustard, retired after 25 years in the video game industry last month.
If there's one silver lining at the moment, it's Alan Wake 2. The Epic Games-published survival horror game launched today to rave reviews and is already on many people's shortlist for Game of The Year. It could be the biggest hit the company has funded in years, or at least the most critically acclaimed. Even if those pesky Epic Games Store achievements are still a major drag.
…