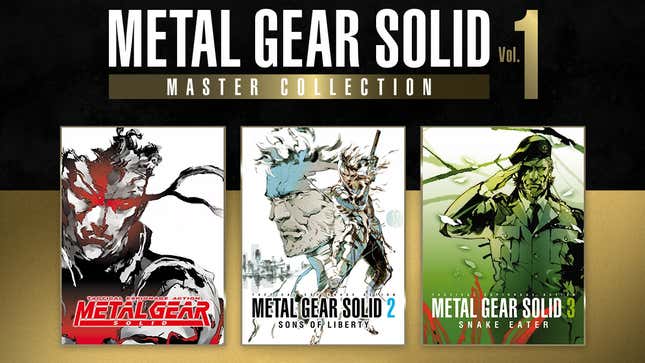 Part of the appeal of video game remasters and remakes is the prospect of playing an old game on better hardware that can, ostensibly, run it better than your old console did back in the day. That is the hope, at least. Unfortunately, not every "remaster" is an improvement over its source material—just ask the Grand Theft Auto Trilogy collection. Now, eyes are turning toward Konami's upcoming Metal Gear Solid: Master Collection Vol. 1., with fans hoping it doesn't run into those same issues. On that front, today saw the emergence of one new slightly disappointing tidbit.
Tears Of The Kingdom's Newspaper Questline And The State Of Hyrulean Journalism
The original 1998 PlayStation Metal Gear Solid ran at 30 frames per second, and Konami has now confirmed that will still be the case for the newly remastered edition launching in the Collection on October 24. News of this comes from a graph on the compilation's official website, which says the first MGS adventure will run at 30fps on all platforms, while Metal Gear Solid 2: Sons of Liberty and Metal Gear Solid 3: Snake Eater will run at 60fps on all systems except for the Nintendo Switch.
To be clear, the original Metal Gear Solid ran at 30fps when it launched in 1998, but it being locked to that lower framerate across the board seems odd in 2023, especially when its sequels will apparently have some scaling depending on which platform you buy them on. (For reference, MGS2 originally ran at 60fps, while MGS3 was originally a 30fps game.)
Here's the full rundown: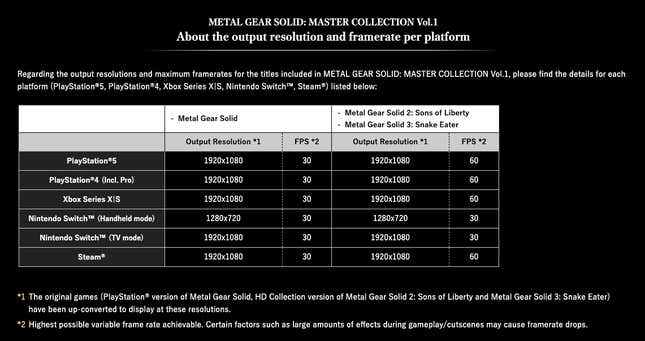 There's been chatter about the games' graphical resolutions as well. It's a bummer to see that none of these games will run at 4K resolution, even on PC, PlayStation 5, or Xbox Series X/S. This lack of 4K support was confirmed back in August.

All of this comes ahead of Konami's separate, upcoming Metal Gear Solid 3: Snake Eater remake. That's titled Metal Gear Solid Δ: Snake Eater, presumably so the number doesn't scare anyone off from playing the game. MGS3 was a prequel in any case, so you didn't need to know everything going in to understand it.

…