A patent for a new Nintendo controller, published by the United States Patent Office on September 7, indicates the Super Mario developer is at least considering how to permanently shake its Joy-Con drift issue. Joy-Con drift, a phenomenon in which your Switch responds to phantom Joy-Con movement, has frustrated Switch owners since the console's 2017 debut, triggering class action lawsuits, and begetting an official apology from Nintendo, which outsourced some drift repairs to a constantly overwhelmed repair shop in Syracuse. But through all of this Joy-Con misery, Nintendo has failed to incorporate a permanent fix until, maybe, now.
What You Should Know About Mario Strikers' Big Free Update
According to the controller patent, which was first filed on May 11, it proposes "a resistance section using a magnetorheological fluid whose viscosity changes with a magnetic-field intensity and which becomes resistance when the operation element is displaced."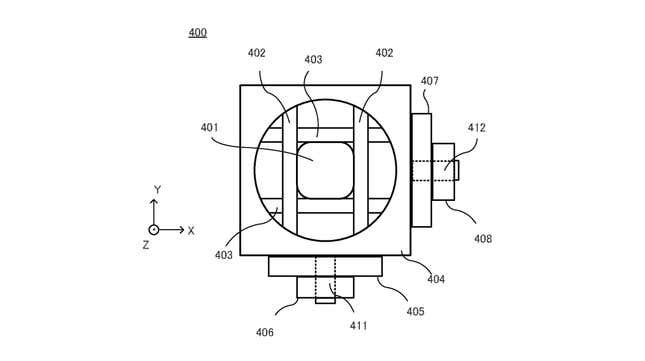 "I hope this means we're getting Joy-Cons that use magnetism not to drift, as a change like that is long overdue," games writer and accessibility advocate Laura Kate Dale told me over Twitter DM. However, some think the patent could instead hint at Nintendo introducing "force feedback analogue sticks similar to the resistive triggers on PS5" to a future console, Dale says. If that's the case, "my main hope is that they can be switched off on a system level for disabled players," she continues.
Read More: Nintendo Switch Joy-Con Repair Center Was Constantly Overwhelmed, Claims Former Supervisor
Nintendo's patent is also kicking up more rumors about the much-asked-for Nintendo Switch 2, which appears to be scheduled for a 2024 release, though some developers reportedly received hands-on time with the device earlier this summer. Kotaku reached out to Nintendo for comment.
"There are a lot of rumors doing the rounds that the Switch 2 is going to basically be a Switch, but with more power under the hood, and a reliance on DLSS-style upscaling to improve framerates and resolution," Dale, who leaked Switch news in 2016, told me. "As a disabled gamer, I'd love to see a hypothetical Switch 2 make an effort to be more accessible" by adding some features that "are now standard on PS5 and Xbox Series consoles, such as system-level colorblindness filters and accessibility tags on the digital store." Out with the Joy-Con drift, in with the more accessible gaming future.
…