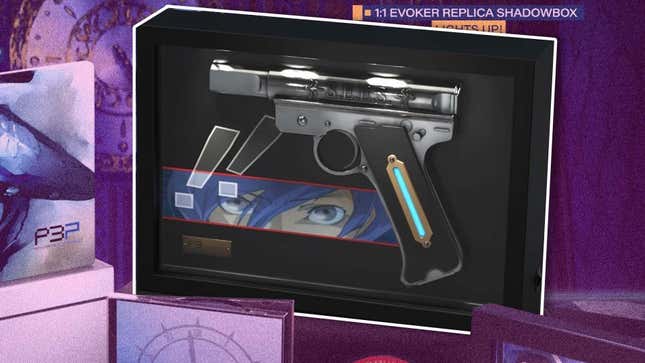 Role-playing game remasters Persona 3 Portable and Persona 4 Golden are getting physical releases through distributor Limited Run, with pre-orders for the former beginning September 29, and the latter coming to the digital storefront on October 27. Physical copies for Persona 3 Portable will be available to play on PlayStation, Xbox, and Nintendo Switch consoles, and the priciest offering, dubbed the S.E.E.S. edition, comes with an Evoker replica shadowbox.
6 Things To Know Before Starting Persona 5 Tactica
Though it would be funny for us and bad optics for P3P developer Atlus if it were distributing 3D replicas of the Evoker—a non-lethal, spiritual pistol Persona 3 characters use to shoot gunk out of their heads and call their Persona, a powerful alter ego—it's not. The one-to-one replica is safely stuck behind shadowbox glass, above brooding, blue-haired teen Protagonist's raging eyes.
Otherwise, the $200 S.E.E.S. edition, which takes its name from P3P's after school club for Persona users, comes with a physical copy of P3P on a platform you choose, a steelbook case, S.E.E.S. armband, and other typical collectibles, like the P3P soundtrack. It also includes a checkered clothes patch and an image of its characters calling for an all-out attack in another shadowbox, which I assume has a $150 value in itself.
The standard, standalone P3P copies are priced a little more relaxedly—$35 each. None of the physical versions, including the collector's edition and deluxe Grimoire Edition, have any purchase limits on them, though pre-orders for everything are set to close on November 12.
Read More: It's Always A Good Time To Play Persona 3
Limited Run has not yet announced details for its physical run of formerly Vita-only Persona 4 Golden, just the fact that it was "coming to LRG on October 27th," the distributor said on Twitter. It'll share more information in the coming weeks.
…