Disneys Dreamlight Valley is finally getting online multiplayer as part of its big December update. We also learned about future free updates that will add more characters and realms as well as more details on the game's first paid expansion launching in December, too.
The Top 10 Most-Played Games On Steam Deck: August 2023 Edition
Dreamlight Valley (see it at Best Buy) is just over a year old after being released in paid early access last September. And to celebrate that milestone, on November 1 Gameloft posted the first digital showcase dedicated to the cozy game and its future, revealing new details about what's coming soon, and later down the road to Disney's Animal Crossing-like life sim.
Here's everything announced during the nearly 25-minute showcase.
Gameloft / Disney
Online multiplayer and Jack Skellington coming next month
While Gameloft announced and showed a lot during the showcase, by far the biggest news was the confirmation that after months of teasing, Dreamlight Valley is getting online co-op on December 5 as part of the game's big, free winter update.
Valleyverse, what Gameloft is calling the multiplayer mode, will let up to three players meet up and hang out together in your valley. You'll also be able to visit other valleys and exchange items with folks. Another benefit of checking out other players' valleys is the ability to see what items are for sale that day in their version of Scrooge McDuck's store.
Gameloft is promising that this is just the start and that it plans to continue to update and expand online multiplayer in the future, adding new features and options.
And Jack Skellington from The Nightmare Before Christmas will join Dreamlight Valley on December 5 alongside a new winter-themed Star Path (aka battle pass) that will feature snowy outfits based on famous Disney characters.
More details on Dreamlight Valley's first paid expansion
As previously confirmed, Dreamlight Valley will leave Early Access (and not go free-to-play) on December 5. And that's the same day that the game's first expansion, A Rift In Time, will launch. When Gameloft first announced this new expansion, which will cost $30, it didn't share too many details. So this showcase was the first real in-depth look at what players would get for that price.
A Rift In Time will tell a new story featuring Jafar from Aladdin as the main villain. This new narrative will be spread across three acts. The first act starts in December while the other two parts of the story will launch sometime in 2024. Gameloft says the first act will introduce players to new characters EVE from Wall-E, Gaston from Beauty and the Beast, and Rapunzel from Tangled. Gameloft says two more new characters will arrive in the later acts in 2024.
Gameloft / Disney
The new expansion is set in Eternity Isle, a new world featuring three distinct biomes: Ancient's Landing, Glittering Dunes, and the Wild Tangle. Each biome will feature new plants and animals to tame as well as new cooking ingredients, such as fantasy figs and cinnamon. These will help players craft new recipes.
Gameloft explained the new world is about the same size as the original valley found in the main game. The studio also confirmed that this new area will have its own, separate object count, letting players decorate freely without fear of running out of space.
Another feature included in this new region are Ancient Machines which will let players automate certain activities, like watering planets and cooking meals. All of this as well as the new characters will be available to expansion owners in the main game's valley, too.
Gameloft's plans for Dreamlight Valley in 2024
Beyond the big December update and the new expansion, Gameloft shared a roadmap for its free updates coming next year. First up, Sulley and Mike from Monsters Inc. will be showing up in the game early in the year. A new Monsters Inc.-themed realm is also being added.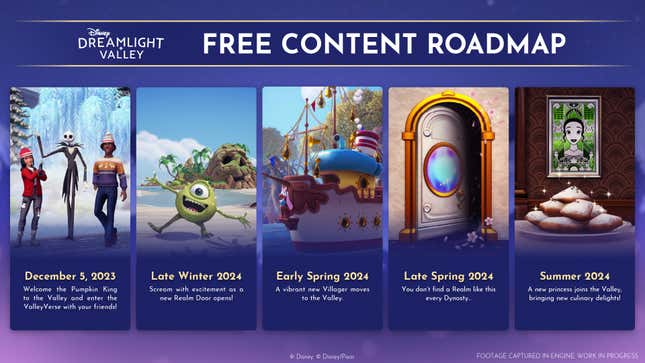 After that, Gameloft teased a new "Vibrant Villager" coming in spring 2024. Based on the image used in the roadmap it seems to be Daisy Duck. Later in spring, a new Realm potentially themed around Mulan will be added to the game. And finally, in summer Gameloft will add Tiana from The Princess and the Frog as well as New Orleans-inspired recipes.
Gameloft says all of these updates will include new Star Paths, additional features, and improvements, too. It feels like the company is really trying to convince folks that just because it's releasing a paid expansion doesn't mean it's done doing free content updates in 2024.
Dreamlight Valley is coming to Apple Arcade
But wait, there's more! As part of the showcase, we got our first look at a new version of Dreamlight Valley coming to Apple devices on December 5. This version of the game will have crossplay support with the Xbox, Switch, and PC versions. However, Gameloft confirmed it won't support cross-save. So you won't be able to make progress on your village while on the go if you are playing on a console or PC. This is a bit of a shame, as the console and PC versions do support cross-save.

Because Apple Arcade doesn't allow paid microtransactions or in-app purchases, all of the expansion content will be included in this version. It won't include a premium shop or paid Star Paths.

Oh and also, while we're piling on announcements, Gameloft revealed that starting today you can listen to the Dreamlight Valley soundtrack on Spotify, Apple Music, Amazon Music Unlimited, and Pandora.

Okay, that's it. That's everything announced. It's a lot and it seems like it could be enough to help win back some players who felt burned by Gameloft going back on its promises to make the game free-to-play. For now, we'll have to wait and see if online multiplayer, new biomes, and more Disney characters will be enough to bring back players who stopped playing over the last year.

Buy Dreamlight Valley Cozy Edition: Amazon | Best Buy | GameStop

.

…