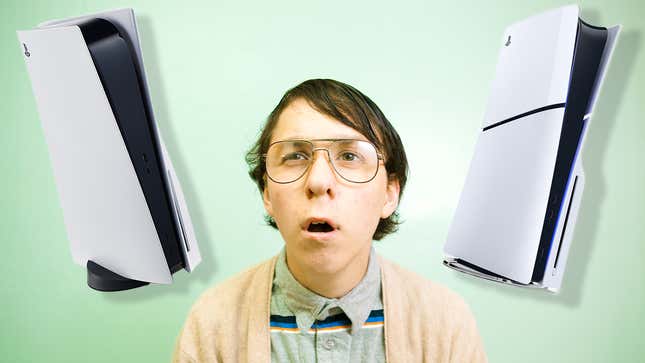 Earlier this week, Sony officially revealed the smaller and sleeker PlayStation 5 "slim." Sure, the console looks a hell of a lot thinner than its gargantuan predecessor, but the PS5 slim's white void-ass production shot doesn't do gamers any favors in guesstimating exactly how much space they'd save by purchasing the new console when it launches in November. Luckily, a helpful Reddit user made a mock side-by-side comparison of the PS5 and the PS5 slim to better illustrate just how small it is.
Thank You, PS Plus, For Making My Backlog Even Bigger
On Wednesday, Reddit user NatureCertain posted an image gallery to the r/PlayStation subreddit that uses 3D models to compare the two PS5 "slim" models to the original disc-playing PS5. Going off NatureCertain's mock-up, both PS5 slim models are considerably smaller than the OG PS5. Here, take a look for yourself.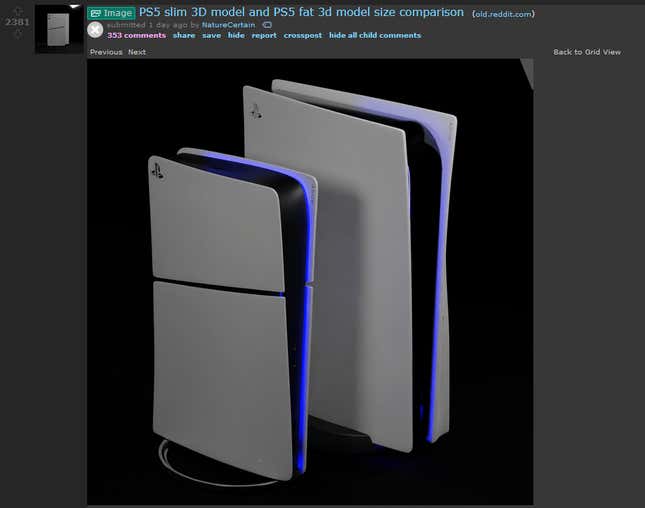 There are several more renders at the link.

Read More: Sony Raising Price Of All-Digital PS5 By $50

Prior to NatureCertain's very helpful post, all prospective PS5 slim owners had to go off of on regarding the new console's size was, Sony's announcement blog post, which, toward its butt-end, divulged that the digital-only and disc drive versions are respectively 358 × 96 × 216mm and 358 × 80 × 216mm. But gamers are visual learners, Sony. Would it have been so hard to provide some sort of visual aid comparing the PS5 slim to the OG for scale?

One shortcoming of NatureCertain's 3D mock-up is that it omitted a side-by-side comparison of the PS5 slim with its disc-less predecessor, as well as an image of the upcoming console with its vertical stand attached for scale. That reminds me: If you were wanting to prop your PS5 slim up in the cool and correct upright position, it'll cost you another $30 because Sony is selling the vertical stand separately. Sheesh.

…