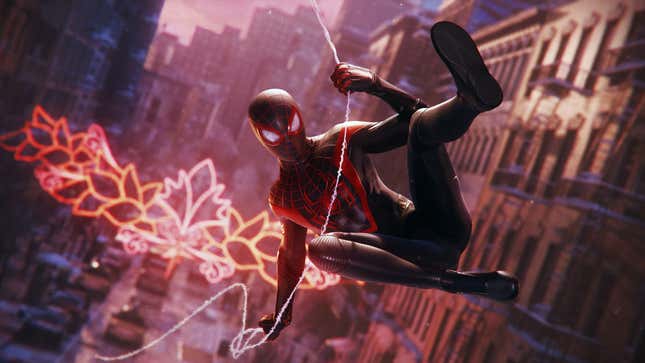 Sony's cloud gaming efforts are starting to ramp up. PS Plus subscribers will be able to start streaming big-name games like Spider-Man: Miles Morales and the Resident Evil 4 remake directly to their PlayStation 5s in the coming weeks. The company also hints that PS5 cloud gaming might be coming to other devices, like smartphones, at some point in the future.
Thank You, PS Plus, For Making My Backlog Even Bigger
"Starting this month, we will begin launching cloud streaming access for supported PS5 digital titles within the PlayStation Plus Game Catalog and Game Trials, as well as supported titles in the PS5 game library that PlayStation Plus Premium members own," the company wrote over on the PlayStation Blog today. This new feature goes live in North America around October 30, and will be exclusive to the Premium tier of PlayStation Plus, which is now $18 a month or $160 a year (Sony raised the price last month).
Though remote play, which allows PS5 owners to stream games from their console to smartphones and PCs, has been around for a while, this new cloud gaming feature will let paying subscribers stream games to their PS5s from Sony's servers and play them without downloading. Here are some of the games Sony said will support cloud gaming at launch, with more being added later on:
Marvel's Spider-Man: Miles Morales
Horizon Forbidden West
Ghost of Tsushima
Mortal Kombat 11
Saints Row IV
Resident Evil 4
Dead Island 2
Genshin Impact
Fall Guys
Fortnite
Game trials will also be available to stream, including Hogwarts Legacy, The Witcher 3: Wild Hunt, and The Callisto Protocol. Streamed games will support resolutions ranging from 720p up to 4K, as well as 60fps and HDR output where applicable. Players can also take screenshots and record video clips up to three minutes long.

While the quality of game streaming still varies a lot, especially based on the speed of your home internet, it can be a major convenience when it comes to trying games out before starting a lengthy install process or quickly dipping into a live-service game like Destiny 2 to finish a daily or weekly challenge. As blockbuster game file sizes have ballooned to over 100GB, juggling installs has become an annoying minigame in and of itself. Cloud streaming is one way to alleviate some of the frustration.

Cloud gaming of most of the Game Pass library has been widely available on Xbox Series X/S and Xbox One for years now, and competing services like Nvidia's GeForce Now provide the same functionality on PC. It's nice to see Sony finally catching up in that regard. As The Verge reported earlier this year, the company's job listings point to a major new push to invest in and grow its cloud gaming capabilities. PS5 owners appear to finally be seeing some of the benefit of that.

…