Back in February, The Pokémon Company announced it was reprinting beloved cards from the very start of the Pokémon trading card game, including the original holographic Venusuar, Charizard, and Blastoise, as part of a $400 board game set. Pre-orders went live on September 21 and sold out in the first hour.
The Week In Games: Pocket Monsters And Simulated Goats
We now know exactly which cards are in the three decks featured in the Pokémon Trading Card Game Classic set, as well as its release date: November 17. The set also features brand new cards, including Lugia ex, Ho-Oh ex, Suicune ex, and a version of Mr. Mime that's releasing outside of Japan for the very first time.
Pre-orders went live on The Pokémon Company's own Pokémon Center storefront and GameStop shortly after the release date was revealed, and stock immediately ran out. Pre-orders are also expected to become available at BestBuy, Target, and other retailers at some point, but it's not exactly clear when, or if they'll take any longer to sell out when they do. It's also possible that some stores are reserving some stock for additional pre-order waves.
The Pokémon Company didn't immediately respond to a request for comment.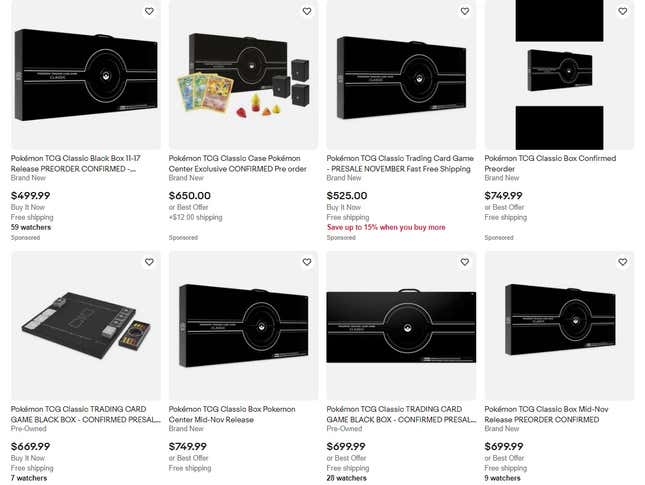 The Pokémon Trading Card Game Classic set trades on millenial nostalgia for the original late '90s heyday of the Game Boy RPGs and their trading card spin-off. I still remember exactly where I was when I opened my first three Pokémon booster packs ever and got a holographic Venusaur and Poliwrath, both of which have long since vanished. I now have kids of my own, and it's clear the set and its absurd $400 price tag is aimed squarely at me.
As news of the initial pre-orders selling out made the rounds on Reddit, collectors were quick to point out that you can actually buy copies of the original cards, including holographic Charizards, for way less. The three decks featured in the Classic set aren't tournament legal either. It's effectively just an expensive novelty replica. "This is so not worth it," wrote one fan. "Cool thing but $150 is my price point. Would rather go buy the big 3 vintage and a Switch Lite for this cost."
For anyone who does want the Pokémon Trading Card Game Classic set, they'll have to keep their eyes peeled for new rounds of pre-orders. Scalpers are already trying to flip their existing orders on sites like eBay for hundreds more than the standard sticker price. It seems unlikely that anyone will actually buy them at the up to $800 that resellers are currently requesting per set, but if The Pokémon Company doesn't end up printing enough stock to meet demand, a few desperate fans might.
In the meantime, the Scarlet and Violet-era Pokémon 151 set takes the original Kanto Pokémon and features them with beautiful new art. The expansion launched on September 22.
Update 9/27/2023 12:50 p.m. ET: A spokesperson for The Pokémon Company International said it's aware fans are dealing with stock shortages and blamed global freight costs for the price of the set outside of Japan. "We are working to address it where it is within our control," they wrote in an email. Here's the full statement:
We're aware that some fans are experiencing difficulties purchasing Pokémon Trading Card Game Classic due to very high demand impacting availability. In addition, due to rising global freight costs, Pokémon Trading Card Game Classic will see higher MSRPs in markets outside of Japan. We understand this inconvenience can be disappointing for fans, and we are working to address it where it is within our control. Fans will have additional opportunities to purchase Pokémon Trading Card Game Classic when it releases on Nov. 17 at participating retailers while supplies last, and some retailers will restock the product later this year.

Pokémon Trading Card Game Classic is uniquely and thoughtfully designed to be a staple playset that is both beautiful and functional, delivering a polished and elevated battling experience for all types of Pokémon TCG fans. We are grateful to the community for their continued support and patience as we work to deliver fun and innovative Pokémon TCG products, including premium items like Pokémon Trading Card Game Classic.
Buy Pokemon Scarlet and Violet 151 Collection Elite Trainer Box: Best Buy | GameStop
.
…