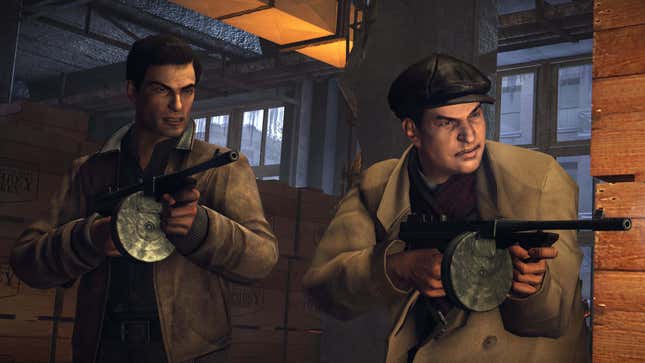 Sony announced November's free titles for game subscription service PlayStation Plus in a November 1 blog. The games will be available to add to your library November 7 through December 4, though PS Plus' typically limited play window might not be enough to convince subscribers to rush to download this month's main offering, Mafia II: Definitive Edition.
Thank You, PS Plus, For Making My Backlog Even Bigger
The standard Mafia II, which 2K Czech released for PS3 and Xbox 360 in 2010, is all right, with an engaging Goodfellas kind of story, though not as memorable as the original Mafia from 2002. At the time, Owen Good wrote in a Kotaku review that II "is eminently beatable in a single sitting, and its achievements and trophies can be plundered in the span of a rental." Ouch. Its Definitive Edition remaster from 2020 tries to beautify its rote gameplay, but players still complained that most improvements got eaten up by the game's many bugs. A popular Reddit post also notes that Definitive Edition's PS4 version (which is what you'll be able to download on PS Plus) is "so prone to stuttering" and audio problems.
"It's ironic and sad that the rich act so cheaply despite asking for more money," one commenter said on Sony's PS Plus announcement blog, which I think is a true statement, though not one I would have initially made about the prospect of playing Mafia II. "You should introspect, Sony."
While you chew on that, consider all of PS Plus' monthly games for November:
Mafia II: Definitive Edition (PS4)—"Live the life of a gangster during the Golden-era of organized crime. War hero Vito Scaletta becomes entangled with the mob in hopes of paying his father's debts in Post-World War 2 Empire Bay, NY, a city sprawling with opportunity and where organized crime thrives on the booming industries of post-war America."
Dragon Ball: The Breakers (PS4)—"In this online asymmetrical action game, a team of 7 ordinary citizens tries to survive the Raider (a classic Dragon Ball rival such as Cell, Frieza, and Buu), who will hunt them down and evolve during the game into an unstoppable force."
Aliens Fireteam Elite (PS4, PS5)—"Discover what hides in the ruins and caves beneath in this third-person survival shooter set in the Aliens universe. Play with up to two players or AI as you battle through four campaigns to explore the mystery of a new planet, LV-895."
On November 6, October's monthly offerings—The Callisto Protocol, Farming Simulator 22, and Weird West—will no longer be available. If you don't care about that either, Sony also announces in its post that "all PlayStation Plus members will receive a 15 percent discount on all content available for purchase and rental in [entertainment app] Sony Pictures Core during the month of November," and that Plus Premium and Deluxe members can watch episodes of Silent Hill: Ascension, the interactive game people despised within minutes of its premiere, 24-hours before they screen elsewhere. Greaaat.

…