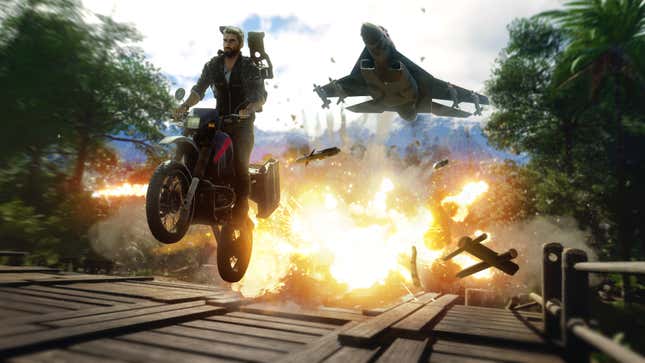 Around 100 employees at Just Cause developer Avalanche Studios Group are unionizing. This means around a fifth of the 500-person Swedish team is now bargaining with the company's management for a fair contract.
Is Alan Wake Worth Playing Before Its Sequel? | Total Recall
IGN confirmed with a union representative that more than 100 workers have joined Unionen, a Swedish trade union. According to their statement, Avalanche Studios Group workers have been working toward joining a union since earlier this year, when members formed a local union board to bargain with the studio's management over specific benefits, but the rep didn't share specific issues. According to IGN's sources, moving to a four-day work week is at least one issue the team has raised in its negotiations.
While one in five workers joining the union might seem small, Swedish union membership is different than what we typically know of unions in the USA, as workers can join a trade union without a union election. This means that around "70 percent of the country" is part of a union, according to data shared with IGN by Unionen.
Avalanche Studios Group provided the following comment to IGN regarding the situation:
As an employer, we're committed to creating the best possible conditions for all Avalanchers to thrive. We support and welcome any initiative that goes in this direction. This also means that we listen, invite dialogue, and encourage people to bring forward their perspectives and needs. After all, it's thanks to each and every Avalancher that we're able to make the great games we're known for.
This comes less than a year after a public dispute between Avalanche's workers and management, which lead to a public apology from the company, which reportedly encountered internal pushback regarding its HR department's lack of communication and follow-through on worker concerns.

Beyond Just Cause, Avalanche Studios Group is currently working on Contraband in partnership with Xbox Game Studios, meaning the open-world co-op game will be exclusive to Xbox and Windows.

…