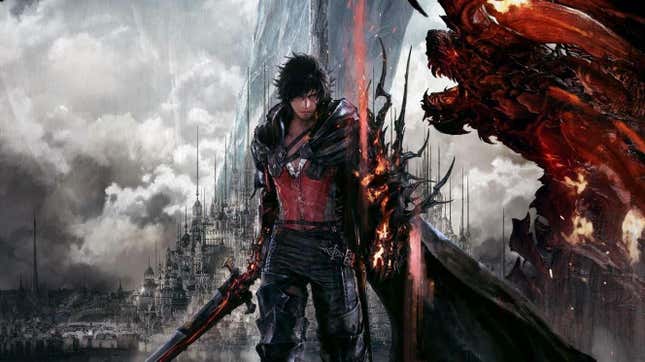 Final Fantasy XVI's long-rumored and all but confirmed PC version has now been made official by the game's producer, Naoki Yoshida. He told fans on September 2 that they can expect more information on the timing of the port before the end of the year, and revealed that two DLC expansions are also definitely happening. A new, free update for the PlayStation 5 role-playing game capped off the good news.
Three Things We Learned From The Final Fantasy 7 Rebirth Demo
Buy Final Fantasy XVI for PS5: Amazon | Best Buy | GameStop
"Allow me to take this opportunity to officially announce that development on a PC version is currently underway," Yoshida told PAX West attendees by way of a brief video address over the holiday weekend. "I hope to be able to give you more information on both the upcoming DLC and the PC version before the end of the year, so please stay tuned."
He added that fans have wanted to see "more of Valisthea's story and spend more time with her inhabitants," hinting that the DLC packs will focus on fleshing out Final Fantasy XVI's world. It's unclear if their content will take place before or after the main campaign, but fans have been hopeful any expansion might delve deeper into the mystery of Leviathan, the only Eikon (summon) that's hinted at in the game but never makes an actual appearence.
Version 1.10 dropped for free on September 3. It adds customizable costumes for each of the main protagonists as well as a new Onion Sword for Clive to wield. There's also an extensive list of patch notes, most of which have to do with how arcade mode is scored and fixing a handful of bugs. One nice feature is that you can finally now see the cooldown for each ability from the skill menu.
FINAL FANTASY XVI | Free Update Showcase Video
Final Fantasy XVI's PC version was originally referenced in the game's very first trailer before later being removed. Square Enix has repeatedly been asked about the timing for a PC port, with Yoshida even telling fans at one point just to buy a PS5 instead of waiting. He then casually mentioned in an interview earlier this year that development on the PC version would begin after the game released in June.
A sizzle reel uploaded by Sony last year signalled that the game's console exclusivity would only last six months. This has left Xbox owners hopeful the RPG might come to Xbox Series X/S eventually as well, though Microsoft Gaming CEO said recently at Gamescom that he wasn't rushing Square Enix. Five years later, Final Fantasy VII Remake still hasn't been ported to the platform.
…